Becoming a Dasher (an independent contractor for DoorDash) can be an easy way to make extra money on the side. If you're just starting, you might hear from experienced Dashers about how crucial it is to utilize DoorDash hotspots –  locations that have a lot of customers.
But how do DoorDash hotspots work, and how can you take advantage of them to maximize your income? Keep reading on to find out!
How Do DoorDash Hotspots Work? 
DoorDash hotspots appear in areas with many orders, and they are shown as little flame icons on the DoorDash map.
Types of DoorDash hotspots
There are two types of DoorDash hotspots: dynamic hotspots and historical hotspots. Both hotspots indicate high activity in the area but differ in when they are busy.
Dynamic Hotspot 
Dynamic hotspots are areas that have the most orders, and the DoorDash app calculates and updates them in real-time. These real-time hotspots usually happen during lunch and dinnertime, meaning that you should receive many orders from dynamic hotspots.
However, other Dashers may want to capitalize on that high activity and flock to dynamic hotspots. As a result, you may find it challenging to pick up an order despite being in active hotspots. 
Historical Hotspot 
Historical hotspots are areas that have the potential to be busy based on historical traffic. DoorDash determines historical hotspots based on recent total orders from the site.
While historical hotspots aren't busy at the moment, they are still worth keeping an eye on. The DoorDash application estimates activity based on historical data and tells you that these areas should be busy soon. Thus, you can use this information to gauge when to arrive at historical hotspots before other Dashers.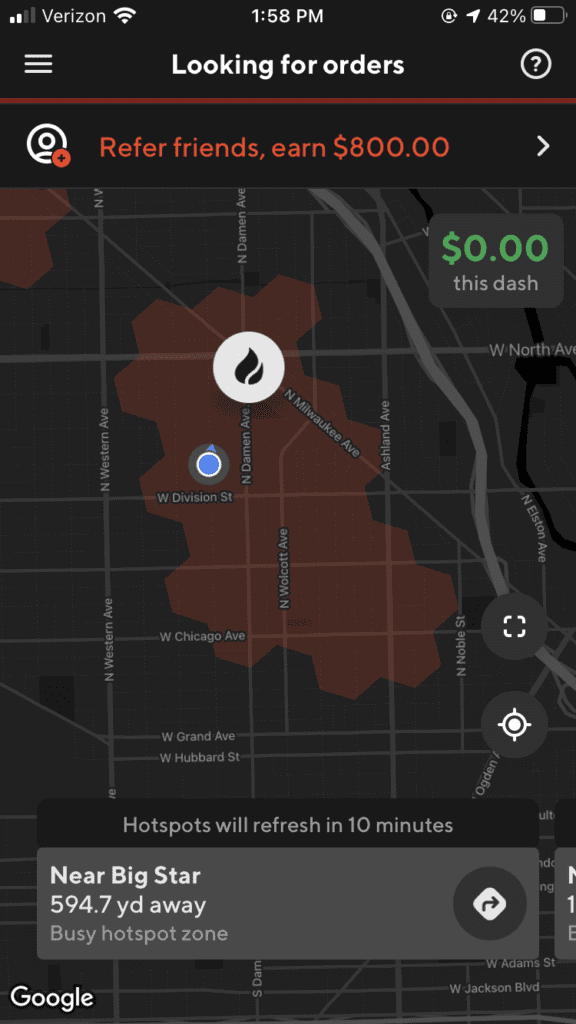 Do You Get More DoorDash Orders At Hotspots?
Theoretically, you should get more orders around hotspots. DoorDash pushes its drivers to these hotspots to meet the customers' demand, especially during rush hours.
However, it is not guaranteed that there will always be more orders at these hotspots. This is because other orders might also be picked up by other drivers beforehand, or the orders might be lower than expected.
A piece of advice by most Dashers is to choose a particular hotspot rather than trying to reach all the potential hotspots. You can do so by waiting near commercial areas that tend to get busy during mealtimes.
How Does DoorDash Assign Orders?
DoorDash has an automated system for efficient order assignment and delivery. The ranking system of which Dasher gets the offer first depends on three criteria:
Dasher scores
Vicinity
Order demand
Firstly, DoorDash orders are given to Dashers with the highest scores, usually known as Top Dashers. Top Dashers acquire these scores by having a high acceptance rate of orders and good customer reviews and ratings.
After all, they do want to assign orders to Dashers who have repeatedly proven themselves as reliable. At the same time, DoorDash also gives the orders first to whoever is closest to the restaurant.
The order assignment is also based on the order demand and driver supply ratio. For example, if there are a lot of orders, Doordash will repeatedly assign the orders to drivers that are nearby and available. However, if there are fewer orders but many available drivers, DoorDash will give the orders to Dashers that are top-ranked first.
The only time DoorDash allows assignment ahead of time is the "Drive Large Order Delivery." These are large orders that are placed ahead of time. Dashers can pre-claim the order in the app the day it is placed. If the order is not picked up or taken prior, Dashers can claim it while dashing.
How Close Do You Have To Be To A Hotspot On DoorDash?
You do not have to be close to a hotspot or even at the hotspot to receive orders. In fact, some experienced Dashers avoid relying on hotspots considering that other Dashers might be heading there too.
Are DoorDash Hotspots Worth It?
Doordash hotspots could be worth it if you are just starting out, as it can be harder to get orders when you are unsure of where to begin. You could still receive orders when you are at home or in gray areas, but it is easier if you're already a Top Dasher.
Regardless, greenhorn Dashers find it easier to increase their scores by lurking around hotspots. So, we recommend you wait around hotspots if you're just starting out.
However, you do not have to be near hotspots to receive orders. Most Dashers stay near commercial locations such as shopping centers or restaurants and wait for orders. In fact, most of them use the DoorDash customer application to check out the highly rated clusters of restaurants.
Hotspots have become a general reference point rather than a firm push point. Essentially, as long as you are in commercial areas with DoorDash affiliates, it would be possible to get orders. However, the number of orders you receive may vary from location to location.

Hotspots are just a matter of testing things out, so you should test for yourself if it is worth it in the long run or not.
How Long Does It Take To Get A DoorDash Order?
It usually takes around 5-10 minutes to get an order if you're near a hotspot. After that, most Dashers usually drive around to another hotspot and wait there for orders. Some drivers even simply stay at home for orders, especially if they live on the edge of a hotspot.
Conclusion…
DoorDash hotspots can be an excellent way to start delivering for DoorDash if you're just starting out. However, finding out what works best for you as a Dasher is more important than trying to reach as many hotspots as possible.
Ultimately, what works best for you depends on your time availability, traffic conditions, and location. Still got questions about how do DoorDash hotspots work? Let us know in the comments below!